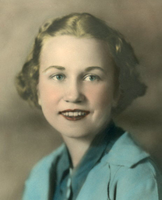 Dorothy Simpson
Dorothy Louise Simpson, "Dot", of Blue Bell, passed away peacefully on March 4, 2018 at her home. She was 98.
Dorothy was born on July 15, 1919 to the late Michael and Catharine (nee Harris) Simpson in Wilkes Barre, PA.
She graduated from Grand Army of the Republic High School in Wilkes Barre in 1937 with honors.
She was a long time resident of the Plymouth Meeting area where she lived since relocating there with her family from her childhood home in Wilkes Barre shortly after WWII.
She retired from the Budd Company in Philadelphia as the Executive Assistant to the President after a career with them that lasted almost forty years.
Dorothy was a dedicated member of the Plymouth Meeting Evangelical Congregational Church, who was devoted to her family and friends and cared about them deeply. In her free time, she enjoyed reading, traveling and gardening, and was a member of the Norristown Garden Club.
Dorothy is survived by her two nieces; Catharine J. Zawatsky (Richard) of Plains, PA and Jill L. Shoemaker of Sausalito, CA and her three nephews; Craig R. Simpson of Norristown, PA, Kip P. Shoemaker of San Diego, CA and Kirk M. Shoemaker of San Diego, CA.
She was predeceased by her two brothers; Joseph W. Simpson, M.D. and Clarence R. Simpson and her two sisters; Jeanne S. Shoemaker and Karen E. Shane.
Dorothy leaves to cherish many family and friends and nieces and nephews.
Relatives and friends are invited to Dorothy's Life Celebration on Monday, March 12, 2018 from 9:00 to 9:50 AM at the Moore, Snear & Ruggiero Funeral Home, 300 Fayette Street, Conshohocken, PA 19428, followed by her Memorial Service at 10:00 AM.
Interment will follow at George Washington Memorial Park.