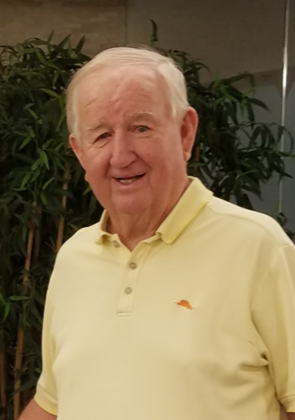 George A. Moscony
George A. Moscony, age 79, of Sea Isle City, NJ, passed away peacefully surrounded by his family on Saturday, February 2, 2019 at Bryn Mawr Hospital.

George was born in Philadelphia on February 22, 1939, a son of the late George A. and Kathryn (McGarrity) Moscony.
He has been living in Sea Isle City, NJ for 19 years, formerly of Havertown, PA. George honorably served in the United States Marine Corps and was very proud of his service. He also served as a Police Officer with the Philadelphia Police Department. George later worked as a Real Estate Broker in Southwest Philadelphia at his family business, George A. Moscony Real Estate.
He was the beloved husband of the late Matilda "Tillie" (Vitullo) Moscony.
Survivors include his daughter, Kathleen (Craig) Lewis of Pilesgrove, NJ; two sons, George A. (Dina) Moscony of Havertown and Michael Moscony of Drexel Hill; as well as five grandchildren, Katie & Jake Lewis and Nicole, George and Allison Moscony.
Relatives and friends are invited to the viewing in Church on Wednesday, February 6, 2019 from 9:30 to 10:15 AM, followed by his Funeral Mass at 10:30 AM at Sacred Heart Church, Manoa and Shelbourne Rds. , Havertown, PA 19083.
Interment will follow in Ss. Peter & Paul Cemetery.
Memorial contributions may be made in George's name to the American Cancer Society, P.O. Box 22478, Oklahoma City, OK 73123.