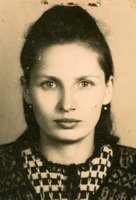 Feliksa Gawlinska
Feliksa Gawlinska, age 94, of Roxborough, passed away on Tuesday, May 7, 2019 at her home.

Feliksa was born in Prusocin, Poland on January 4, 1925, a daughter of the late Jozef and Genowefa (Szpejna) Labedzki.
Feliksa has been living in Roxborough for the last four years and formerly lived in the Port Richmond section of Philadelphia, where she was a member of Saint Adalbert's Church.
She was a homemaker and enjoyed gardening.
Feliksa was the beloved wife of the late Jan Gawlinski.
Survivors include her four children, Eugeniusz Gawlinski, Sabina Kielczykowska, Barbara Glinski and Feliksa Zak, as well as her grandchildren and great grandchildren.
Along with her husband and parents, Feliksa was preceded in death by her baby son and her siblings.
Relatives and friends are invited to the Viewing on Monday, May 13 from 8:45 to 9:45 AM at the Moore, Snear & Ruggiero Funeral Home, 300 Fayette Street, Conshohocken, PA 19428.
Feliksa's Funeral Mass will be celebrated on Monday morning at 10:30 AM in Immaculate Heart of Mary Church, 819 Cathedral Road, Philadelphia, PA 19128.
Interment will take place in Our Lady of Czestochowa Cemetery, Doylestown.