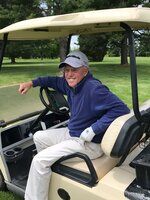 Donald P. DeAngelis
Donald DeAngelis passed away on January 18th, 2022. He was 70.
Don was born in Lafayette Hill, PA on November 1st, 1951 to the late Pete and Ethel DeAngelis.
Survived by his sister, Michele DeAngelis of Burbank, CA, his loving wife, Michele DeAngelis of West Norriton, PA, and his two sons Jason and Tom Rowinski of West Norriton, PA. Also survived by a huge family filled with immeasurable love for him and an amazing group of lifelong friends.
Don battled cancer with grace, bravery, and strength. He lived every day with positivity and determination to not let the disease keep him from doing the things he loved. We are all unlucky to have had to say goodbye, but we are luckier because we had someone who made saying goodbye so hard.
Don was a PGA professional golfer with immense talent, winning the 1985 Pennsylvania Open and playing in the 1978 US Open at Cherry Hills Country Club in Denver, CO. Don was a professional of the highest class having won a PGA tournament in six straight decades. He poured his heart and soul into his work. There truly wasn't anything that Don couldn't do. His teaching skills were genius and his career was exceptional. As legendary as Don was on the golf course, he was an even better man off the course.
Don left an impact on everyone that came into his life. Whether it be family, friends, people he taught, he always made it a point to make those he encountered feel so important and special. He showed up when it mattered and had your back when you needed it most. He was as genuine as they come, a true role model, and the best teammate one could ask for in life. Knowing, loving, and caring for all of us was the success story of Don's life.
We will meet again, joyfully, on the other side…
We will pay homage to our hero in the spring at a golf memorial celebration.
In lieu of flowers please plant a tree in Don's name. Or better yet - go play a round of golf and enjoy the game that Don made better. We love you PRO!